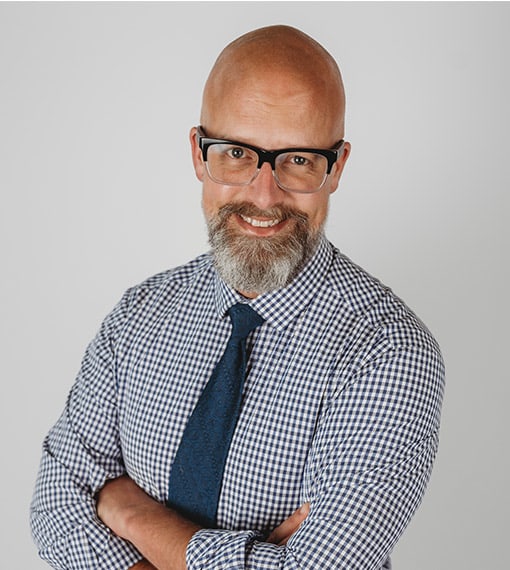 Jason Headrick
DVM, PhD, Practice Limited to Surgery
Dr. Jason Headrick graduated from Marquette University with degrees in psychology and philosophy. He received his DVM degree from the University of Wisconsin – Madison in 2003. Post-graduate work includes a rotating internship at the University of Missouri, surgical internship at Gulf Coast Veterinary Specialists in Houston, TX, and orthopedic fellowship, PhD, and surgical residency at the University of Tennessee. After completion of his residency, Dr. Headrick was a staff surgeon for two years in the Chicago area followed by a staff surgeon position in New Hampshire prior to his move to Newtown. Dr. Headrick has authored several journal articles in numerous veterinary journals. He has a passion for teaching and has been responsible for the education of veterinary students, interns, and technicians at the university level. He also provides continuing education opportunities for his area doctors and technicians.

Dr. Headrick is proficient in both soft tissue and orthopedic surgical services. He has special interests in neurosurgery, oncologic surgery, skin reconstruction, and fracture repair. His research allows for a unique point of view to help his patient's owners decide the best repair technique for a torn cruciate ligament.

Jason and his wife, Anna, along with their three sons enjoy exploring homesteading. He has a passion for music, movies, and the outdoors. Their animal count is too countless and growing to mention here.

Publications:
Headrick JF, Zhang S, Millard RP, Rohrbach BW, Weigel JP, Millis DL. Use of an inverse dynamics method to compare the three-dimensional motion of the pelvic limb among clinically normal dogs and dogs with cranial cruciate ligament–deficient stifle joints following tibial plateau leveling osteotomy or lateral fabellar–tibial suture stabilization. AJVR 2014:75(6):554-564.
Headrick JF, Zhang S, Millard RP, Rohrbach BW, Weigel JP, Millis DL. Use of an inverse dynamics method to describe the motion of the canine pelvic limb in three dimensions. AJVR 2014:75(6):544-553.
Souza CHD, Headrick J, Weigel JP, Millis DL. The use of cyclosporine-A in dogs with chronic osteoarthritis: A pilot study. VCOT 2011;24(4):285-288.
Durant AM, Millis DL, Headrick J. Kinematics of stair ascent in healthy dogs. VCOT 2011;24(2):99-105.
Millard RP, Headrick J, Millis DL.   Kinematic analysis of the pelvic limbs of healthy dogs during stair and decline slope walking. JSAP 2010;51(8):419-422.
Headrick JF, Cook JL, Crouch DT, Helphrey ML, Fox DB. Comparison of radiographic techniques of the tibial plateau slope in dogs. VCOT 2007;20(1):24-28.
Headrick JF, Fox DB, Cook CR, Tomlinson JL, Cook JL. What is your diagnosis: A case of aseptic loosening in a total hip arthroplasty. JAVMA 2005;226(11):1805-6.
Headrick JF, Bentley E, Dubielzig RR. Canine lobular orbital adenoma: A report of 15 cases with distinctive features. Veterinary Ophthalmology 2004;7(1):47-51.
Headrick JF, McAnulty JF. Reconstruction of a bilateral hypoplastic soft palate in a cat. JAAHA 2004;40(1):86-90.
Abstracts:
Headrick JF, Durant AM, Millis DL. Advancements in kinematic data acquisition: Reduction of skin movement artifact and further improvements towards the inverse dynamics method. Veterinary Orthopedic Society 35th annual conference, March 2008, Big Sky, MT.
Stoller NB, Headrick JF, Millis DL. Kinetics of jumping dogs. Veterinary Orthopedic Society 34rd annual conference, February 2007, Sun Valley ID.
Headrick JF, Hicks DA, McEachern GL, Millis DL.   Kinematics of walking over cavaletti rails compared to overground walking in dogs. Veterinary Orthopedic Society 33nd annual conference, February 2006, Keystone, CO.
Hicks DA, Millis DL, Headrick JF, McEachern GL. Computer-assisted kinematic evaluation of compensatory movements of the lumbar spine associated with hind limb lameness in dogs. Veterinary Orthopedic Society 33nd annual conference, February 2006, Keystone, CO.
McEachern GL, Millis DL, Headrick J, Hicks DA. Kinematic assessment of sit-to-stand exercise in dogs with chronic extracapsular cranial cruciate repair. Veterinary Orthopedic Society 33nd annual conference, February 2006, Keystone, CO.
Headrick JF, Beale BS, Hulse DA, Pool RR. A description of lateral meniscal tears found in the normal canine stifle joint. Veterinary Orthopedic Society 32st annual conference, March 2005, Snowmass, CO.
Dubielzig RR, Headrick J, Bentley E. Canine orbital adenomatosis: A report of 15 cases of a unique new syndrome. Joint Meeting of BrAVO, ECVO, ESVO, ISVO, June 2003, Cambridge UK.Guidinger KD, Czech DA, Fachtung AC, Headrick JF. Nitrous oxide-enhanced intake of a palatable fluid in water-deprived rats is reversed by an opioid receptor blocker. Society for Neuroscience 1995: 21:1461