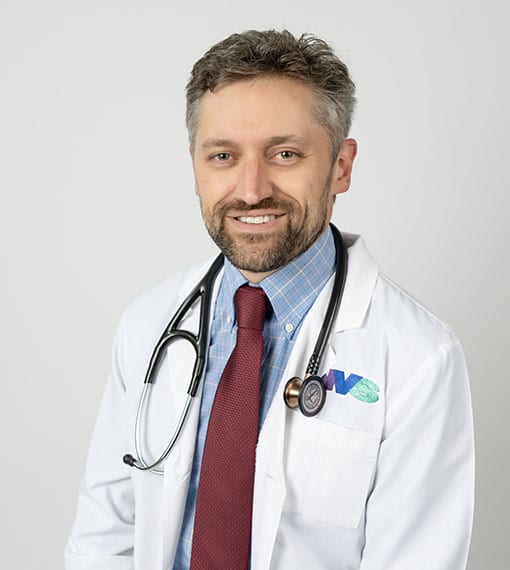 Adam Porter
DVM, Diplomate American College of Veterinary Emergency & Critical Care
Co-Medical Director
Dr. Porter is a 2008 graduate of the Tuft Cummings School of Veterinary Medicine. After completing a small animal rotating internship at the Veterinary Referral and Emergency Center in Norwalk, CT, he returned to Tufts for his three-year residency in Emergency and Critical Care.  Upon completion of his residency in 2012, Dr. Porter became a certified specialist as a Diplomate of the American College of Veterinary Emergency and Critical Care.

In 2012, Dr. Porter moved to New York, where he served as a criticalist and the ER department head at a busy specialty center.  After several years, he joined the staff of New England Veterinary Center and Cancer Care in Windsor, CT prior to his move to Newtown Veterinary Specialists, where he currently serves as the ER department head and co-medical director in addition to his clinical duties.

Dr. Porter's interests include shock, sepsis, and management of congestive heart failure and respiratory failure.  He has published literature in the fields of shock and biomarker use in the ER and has spoken at numerous continuing education events.  Dr. Porter enjoys hiking and other outdoor activities with his wife, baby daughter and their two dogs.